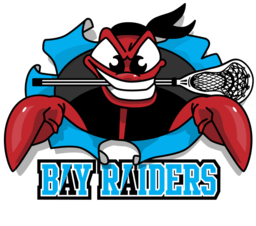 Expected Club Costs
AYLC is a subsidiary of AYLA, a non-profit organization without salaries to a club program owner, our club fees are based on the cost of fields, uniforms (custom helmet included), tournaments, leagues, and operational costs.
The AYLC BayRaider Select base club fee for the 2018-2019 season is $1,295. This does not include additional skills and training that will be offered for individual development throughout the year. This also excludes additional tournaments that coaches may decide to participate in during the fall, winter, and summer. Participating in the maximum number of offerings should not exceed $1,500 for the 2018-2019 season.
AYLC Select: Bay Raiders Club Lacrosse
The primary focus for each team will be player and team development, competing with a high level of sportsmanship, and demonstrating leadership in the classroom and community.
Coaching staffs will be comprised of experienced coaches at all age groups.
All teams will have 2-3 experienced assistants focused on position specific aspects (goalie, face-off, Def coordinator, etc).
All coaches will be US Lacrosse Level 1 certified coaches by the spring season 2019.
All coaches background checked.
AYLC will hold coaching clinics conducted by commissioner Francis McAndrews and other coaches periodically through the fall and winter.
Topics will include:
AYLC code of conduct expectations for on/off field events,
Effective practice and season planning,
Communication techniques for players and parents,
Age specific drills and concepts, and
In game situational awareness for coaches.
A Balanced approach to Club Level Lacrosse
Our select lacrosse program will offer:
Fall training (practices/tournament),
Re-introduce "Young Guns" for scooper/younger clinic player,
Potential fall skills sessions with independent coaches,
Winter training (indoor/practices),
Spring full season (AA county Club and possible HoCo club league), and
2-3 summer tournaments (TBD)
6-7 fall training/practices
1 fall tourney (TBD)
4-5 winter skill sessions (indoor league if wanted by coach)
1-2 spring leagues (depending on coach)
2-3 practices on turf (start practices in February)
Independent position specific training on demand
All coaches to be US Lacrosse Level 1 certified.
Custom Helmet
Fall Pinnie, shorter shirt, uniforms
Fall tournament
Summer tournament 2-3
AA county Club league
HoCo Club League (determined by coaches)
Multi player family discount should be applied.
Young Guns: 6 fall skills sessions
Includes a pinnie.
Additional goalie clinics, faceoff clinics, skills sessions run by independent coaches will be additional fees on an as used basis.